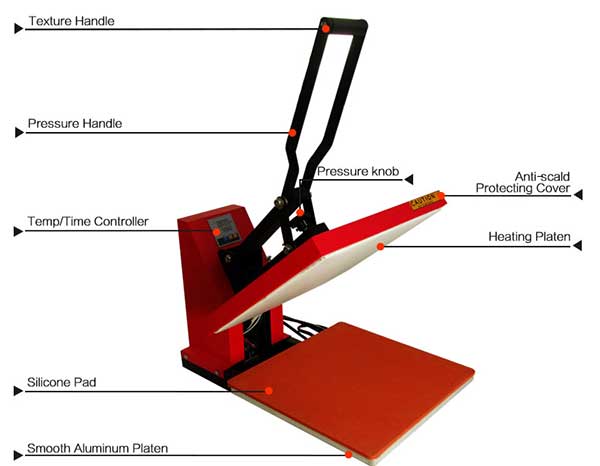 Model

No.
XY-003B
Machine

Type
New

High

Pressure

Model
Name
star

high

pressure

heat

press

machine
Controller
digital

panel
Voltage

110V/220V
Power
1800W
2200W
2800W
Time

Range

0-999sec.
Max.

Temp.

399°C

Printing

Area
38*38CM
40*50CM
40*60CM
Pringting

Thickness
up

to

70mm
Gross

Weight
26kg
32kg
38kg
Package

Size
800*480*450mm
800*580*450mm
800*680*450mm
Notes
38*38cm

specification

of

the

machine

also

can

be

made

into

a

u-shaped

design

on

the

bottom,

suit.

Native

38*38

and

40*50,40*60

designs

are

not

the

same.
Can be sublimated logo or type, solvent type ink, high temperature and pressure, and a certain amount of time, heat transfer printed cotton, hemp, chemical fiber, metal, ceramic, glass and other material,can also be used for flocking heat transfer and heat treatment of foaming printing, convenient and practical.




01.new type die cast heating plate,warming more
faste,more uniform, more stable

02.Three holes plug






03.Stainless Steel Solid Screw

04.high quality workbench
The machine is packed in wooden package and provide with manual.

① file handle, bring the machine into your. Work platforms to be used on objects, test pressure is appropriate, such as inappropriate, need to adjust the pressure knob. (Rotate knob clockwise to increase pressure, counterclockwise to decrease pressure)
② open machine, ready for printing. (The heating process used should not be placed on the platform to avoid fried)
③ turn on the power switch, temperature controller starts a self-test, about 10 seconds after the self test is completed and the job, work parameters can be set only at this time, (first set needed: temperature, time, time and temperature as described in the attached instrument panel operating instructions)
④ machine when the required temperature is reached, you will need to transfer goods tile placed on a work surface, press start, start automatic timing, after the set time is reached, the machine beeps, lift your hands to complete a single operation.
For T-shirt, Puzzle, Mouse Pad, Metal Board, Fridge Magnet, Coaster, Slipper, Bag, Cushion etc