MANUAL SCREEN PRINTING PRESSES
If you're going to be printing t-shirts regularly, you're definitely going to want to invest in a press. Screen printing presses will ensure all your screen prints fall in the same place on the shirt, and are absolutely necessary for doing multi-color prints.
Screen printing presses are distinguished by their amounts of "colors" and "stations". For example, a 6 color 6 station press can print up to 4 colors (holds 4 screens), and can have 4 shirts loaded on it at a time. The higher the number of stations, the faster your production rate.
Newman printers stand the test of time as the professional's choice for strength, durability and ease of use.Newman printers are ideal for growing and high-volume shops and those producing sophisticated designs. The large-diameter, full-length center shaft combined with print station supports struts maximize strength. Precision machined cast aluminum print heads and print wheel combined with tapered roller bearings make high production manual printing effortless.
| | |
| --- | --- |
| Plate Type | Screen Printer |
| Usage | T-shirt,clothes |
| Automatic Grade | manual |
| Color & Page | Multicolor |
| color/station | 4 color 4station |
| Platen size | 500*600(mm) |
| pallet materials | wood |
| max frame size | 500*600mm |
| max image size | 450*540mm |
| Net weight: | 112KG |
| Gross weight: | 130KG |
| Dimensions(L*W*H) | 2270*1050mm |
| Volume | 0.13545/0.127041 CBM |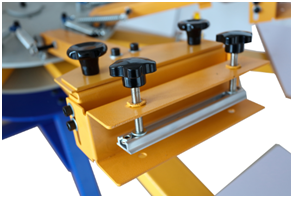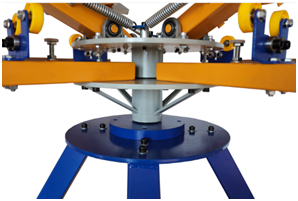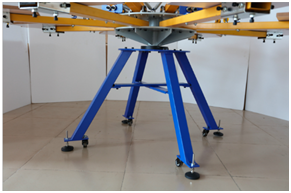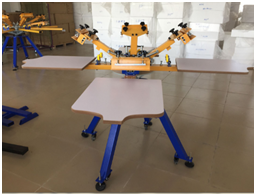 Export Standard Carton and Plywood Case Package
Product Information:
4 color 4 station t-shirt screen printing machine:
1. Widely suitable for screen printing t-shirts, garments, towel, leather, umbrella and backpack, etc.
2. The printing base and screen can be rotated, and screen plate can turn backward and forward, left and right, which makes the operation easier and positioning more accurate.
3. Used for printing with heat set ink, rubber cement and other printing inks
4 color 4 station t-shirt screen printing machine :
The textiles color printing machine occupy the space is small, involving fewer manpower, and it's easy to print color. It is widely used in clothing, CD fabric, bags, umbrellas, leather, etc. Table plate can be moved around, and the screen can also be around, the front screen can be adjusted. Easy adjusting - Mesh frame can be precisely set to correct position by turning screws of adjusting system on printing head.
Color steel press with stand.
Rotating base and brass bushings.
Consistent front, back, left, right, high and low makes it easy to use for multiple color prints.
There is literally no maintenance.
The head comes assembled & ready to attach to the base.
Location lock that helps lock the arm in place while in the printing position.
All Tubular Steel Construction.
Adjustable Screen Tension Hold Down.